Presentazione

Innovative aspects Musical examples Contact us Author
User Manual Screenshots Video tutorials Welcome
Download User Manual (.doc file)
Download User Manual (.PDF file)
What is new in PYMMusic 1.0.0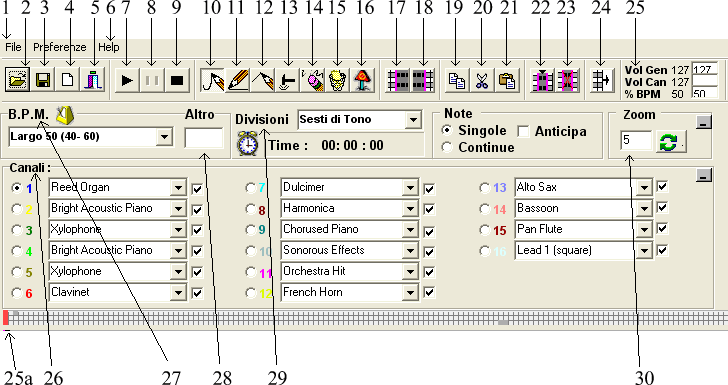 1. File: Click File to select "New", "Open", "Save", "Save as" and "Quit"
2. Open
3. Save
4. New
5. Quit
6. Help: Click Help e select "Guida in linea" to get the software manual.
7. Play
8. Pause
9. Stop
10. Freeform lines
11. Straight lines.
12. Oblique lines.
13. "Tap" to add an adjacent note of the same pitch.
14. Clear
15. Clear all
16. Starting point
17. Selection start.
18. Selection end.
19. Copy
20. Cut
21. Paste
22. Insert Time signature: to insert a different time in a previously selected area.
23. Clear time signature: to clear the previously selected times.
24. Score lengthening: click this button to add 1000 squares to the score.


25. Change in volume and speed. Above the score 3 horizontal lines (see 25a). The first line is for the master volume, ranging from 0 (min. value) to 127 (max. value). The second line is for the setting of the individual channels, and range is from 0 to 127. The third line is for modifying play speed in any point of the score. This field accepts any value from 1 (one hundredth of the preset value) to 800 (start speed is increased by 800%, i.d. 8 times more).

26. List of channels (16): each channel is identified by a different colour. You can assign one of the 128 midi instruments to each channel. If you PC is fitted with a sound module like Sound Blaster, you can use the "SoundFonts" library, in free download from internet.

27. BMP = beats per minute: preset values from 50 (adagio) to 200 (prestissimo). Other values can be set (see point 28 "Others".

28. Others: this field accepts values ranging from 1 to 9999.

29. Divisions: indicates how many times a tone is divided (In the tempered system the octave is divided in 12 halftones, thirds, fourths, sixths, eighths, sixteenths and 53-ths of a tone, octave of 53 sounds).

30. Zoom: In this field you can digit values ranging from 2 to 20. Preset value is 5. Higher values enlarge the score, whereas lower values make the working area smaller.
Presentazione

Innovative aspects Musical examples Contact us Author